**Resources updated 6/2/20 in accordance with immediate needs for the current Black Lives Matter movement.**
It's easy to get swept up in the buzz about cannabis in 2020. As our nation progresses towards emancipation of the plant, it's essential we remember the origin story and advocate for freedom of the people, too. This post is for those of you interested in supporting social equity reform in 2020.
Read on for a brief history of the War on Drugs, how it's disproportionately affected communities of color and how you can support the equity movement.
Decades Long War on Drugs
America's first anti-drug and marijuana laws, emerged in the late 18th century and early 1900s. However, this account will pick up in the 70's when President Nixon officially declared a "war on drugs."
During that time, cannabis was rescheduled to the most restrictive category of controlled substances.
How The War Has Affected Black Communities
During the Reagan Administration in the 80's, incarceration soared. Law enforcement focused on lower income communities, urban areas and communities of color resulting in higher arrest and incarceration rates for these communities.
"Research shows that prosecutors are twice as likely to pursue a mandatory minimum sentence for black people as for white people charged with the same offense."[1]
The high rates of incarceration lead to separation of families and generations of children were disconnected from their parents. Due to their records, many who completed their sentences encounter barriers to public housing, voting, child custody, employment, business loans, and other public assistance programs.
A Current Picture of Incarceration
The number of people arrested for a marijuana law violation in 2018 was 663,367. [2]
Please note, the percentage of people arrested for drug law violations who are Black or Latino: 46.9% (despite making up just 31.5% of the U.S. population) [2].
Access to housing, employment, public assistance, education and voting rights may be restricted long after time has been served.
In contrast to the thousands of people serving time for a cannabis related conviction, cannabis companies (yes, this includes the hemp) are generating revenue in the billions. Most of these businesses are white-owned.
Although more and more people are benefitting from the cannabis plant financially and healthwise, former felons — people who sold drugs for a living, are eliminated from joining this booming industry.
What is expungement? Which states are making a difference?
Expungement is a step in the direction of restoration. It's the process of destroying a criminal conviction from state or federal court. After expungement, the court treats the conviction as if it had never happened.
Expungement is not simply a wave of the wand. To move through this process, a person with cannabis records must first be aware they are eligible for expungement. Clearing their record may include paying fines and obtaining documents from multiple courthouses. 
It's up to each state to decide the criteria for who is eligible, which offenses, specific procedures and management of orders.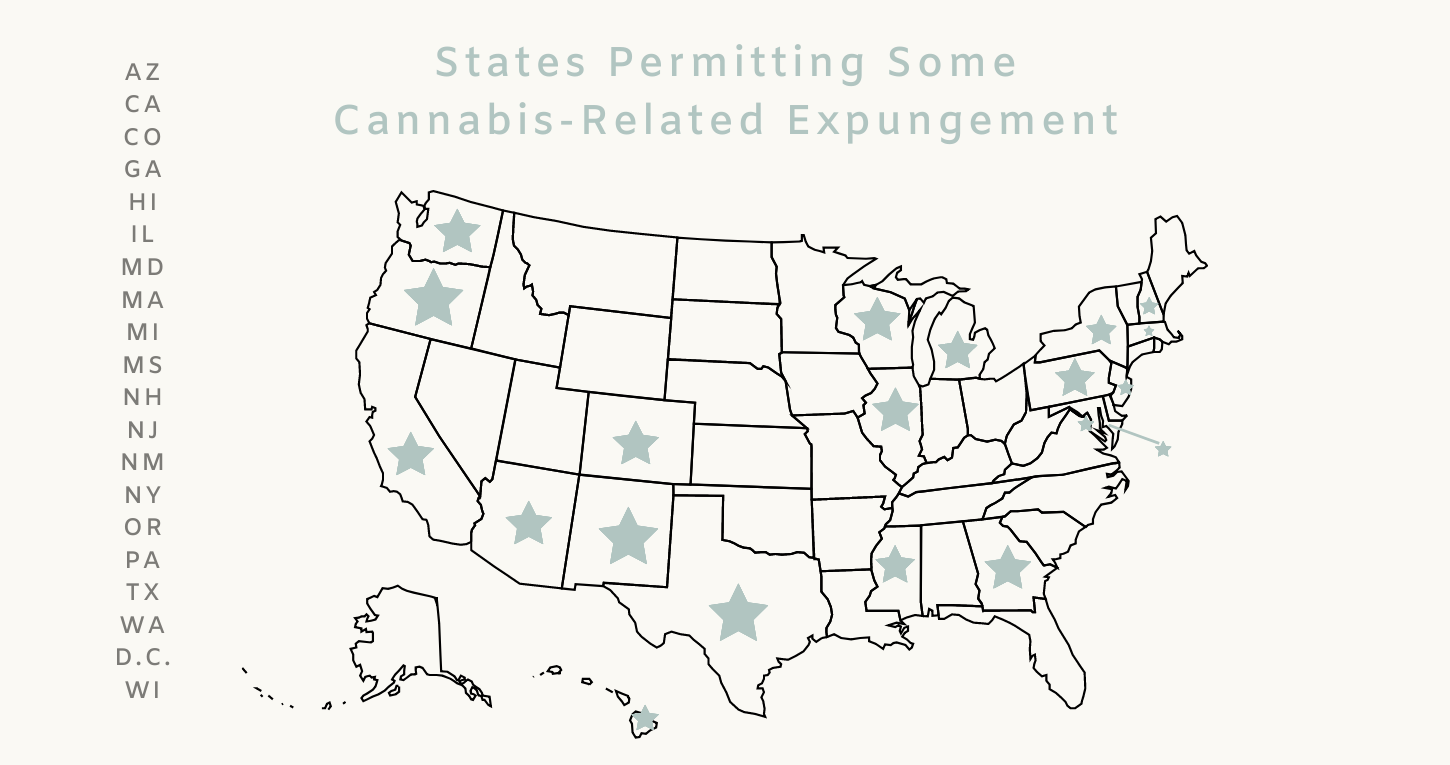 States are not currently permitting cannabis related expungements: Alabama, Alaska, Arkansas, Connecticut, Delaware, Florida, Idaho, Indiana, Iowa, Kansas, Kentucky, Louisiana, Minnesota, Missouri, Montana, Nebraska, Nevada, North Carolina, North Dakota, Ohio, Oklahoma, Rhode Island, South Carolina, South Dakota, Tennessee, Utah, Vermont, Virginia, West Virginia, Wyoming
Following reentry into society, additional hurdles to prosperity include lack of skills and workforce experience due to time lost.
How can brands give back?
It's clear that people of color have been severely impacted by the war on drugs.
One of the most obvious ways cannabis brands can positively contribute to the narrative is to financially support the equity movement. If you're making a profit in this industry while others are experiencing punishment for their involvement with the plant, it's socially responsible to redistribute the wealth back into negatively affected communities.
Organizations Moon Mother supported in 2019
At Moon Mother Hemp, part of our mission is to be an active participant in equity reform. By using a percentage of our quarterly profits, we support nonprofit organizations working to promote national cannabis record expungement, promote equity efforts for cannabis brands owned by people of color and end the bail system. This is one way of honoring the individuals and communities severely impacted by the war on drugs.
The following are the four major organizations Moon Mother Supported in 2019:
Tokativity: As the global cannabis community for women, Tokativity focuses on empowering women + cannabis normalization by hosting experiential consumption-friendly gatherings.
The Bail Project: This organization combats criminalizing poverty. They hold a revolving bail fund to allow people awaiting their trial to return home through closing the economic gap within the bail system.
Equity First Alliance: Their mission is to repair the war on drugs through education, engagement, mobilization and seek justice for those who have been harmed most by it.
Last Prisoner Project: Dedicated to repairing the past and continuing harms of the criminalization of cannabis, a  primary focus of LPP is releasing individuals still incarcerated for victimless cannabis offenses. They focus on three key criminal justice reform initiatives: clemency, expungement, and reentry. 
Brands can also use their platform to share about local expungement days, give awareness to equal access & opportunity to cannabis and lead the industry with integrity by employing people of color.
What can consumers do to stay conscious?
History is happening before our eyes. You have the unique opportunity to shape the story of cannabis. The very first thing you can do to support social equity in the cannabis space is free!
Follow Equity Focused Accounts & Share Their Messages to Amplify Their Voices
**UPDATED** Some of our favorites include:
Buy from Brands Dedicated to Equity
Your money speaks volumes. Ask questions and familiarize yourself with a brand's mission before voting with your dollar. Note companies with people of color in executive positions and those who give back to communities heavily impacted by the War on Drugs.
Volunteer Your Time with a Local Advocacy Group
Get to know the faces of the social movement in your city and step out for an important cause. Support your local communities by getting involved with an organization near you. 
Donate Directly
Many of the organizations listed above are non-profit organizations that rely on donations. Any amount is helpful and the impact is tangible. If you're short on time but committed to progressing the cannabis industry toward justice, donate directly to organizations repairing the harms caused by the War on Drugs.
**UPDATED**
• Your local bail funds
[1] http://www.drugpolicy.org/resource/drug-war-mass-incarceration-and-race-englishspanish